Movies in India are a very big craze. They relate to our lives in some way or other. Here is a list of 7 movie characters with whom we all can relate…
Movies are not just a time pass. They reflect our lives. Sometimes they leave us laughing like anything and sometimes they touch our hearts deeply while sometimes they leave us with a question mark. Being an Indian, we cannot isolate Bollywood from our lives. In fact, it is a part of our daily diet!
We all relate to some or the other characters of movies. There are times that the fight for justice in a movie becomes ours while many times the love stories remind us of our relationships. From family dramas to action and from tickling flicks to touching tales, Bollywood has touched our lives intensely.
It is a larger mirror of our own lives. The more a movie depicts characters like us the more it connects with the audience. Most of the times, we find our known or ourselves in these movies.
So, here we are sharing a list of some of the most popular movie characters of recent times. Does any of it remind you of yourself or a friend?
1. Siddharth Mehra from 'Wake Up Sid'
A spoilt yet charming guy who believes in living the life fullest is what Ranbir Kapoor brought to us. Friendship is what he swears by and living his dream gives him a high. Though, he had issues with his parents but yet he managed to win our hearts. You will definitely find this kinda guy near you or are you the real life 'Sid'!
Source: Tumblr.com
'You live once! Live to the fullest'
2. Geet Dhillon from 'Jab We Met'
A full of verve and vigour girl played by Kareena Kapoor Khan won her many accolades. Talking endlessly is what gives her boost. She loves herself. She takes decisions at a blink of an eye and never regrets. Passion is a small word to describe her personality and emotions, is her oxygen. If you know this kinda girl then you might not need to see this movie again!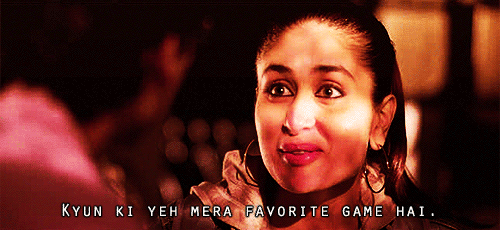 Source: Scoopwhoop.com
"Main Apni Favourite Hu!"
3. Shivani Shivaji Roy from 'Mardaani'
It is considered to be Rani Mukherjee's one of the best performances. A lady with an iron heart and fist is what the movie showcases. She stands up for the right of others and fights for it too. You will think twice before messing up with her. We are sure you are thinking about your 'Mardaani' friend right now.
Source: Tumblr.com
"Haath laga ke toh dekh!"
4. Imran from 'Zindagi Na Milegi Dobara'
Imran aka Farhan Akhtar played a happy go lucky character in the movie. You might also have a friend like, who despite a lot of sadness in his/her own life makes everyone smile around him/her. He is the life of every party and gathering and is loved by all!
Source: Tumblr.com
"Tum Agar Khush ho, toh Zinda hu main"
5. Milkha Singh from 'Bhaag Milkha Bhaag'
Farhan Akhtar gave a marvellous performance in this movie. But, here we are pointing towards those for whom sports is their life. You will find them in the field practising even before the college/school bell rings. For them, winning in their sports is the one thing they live for.
Source: Tumblr.com
"Sports is what I live for"
6. Shanaya Singhania from 'Student of the Year'
This movie was a great performance by new actors in Bollywood yet it made a great impression. Shanaya Singhania played by Alia Bhatt won many accolades. The character was of a young rich girl who swears by designers stuff. She does not look beyond Gucci or Louis Viton yet she has an emotional heart and at the end of the day, she always chooses right. Bet this girl is just around you!
Source: Tumblr.com
"I am not wearing it, if it is not Prada"
7.Sameer from 'Mere Dad Ki Maruti'
This is a hilarious flick featuring Saqib Saleem who played the lead character 'Sameer'. And Sameer is no different from that guy in your society or a friend in your class who always get scolded by his dad, is an average student but yet have a heart of gold.
Source: Wordpress.com
"Dad ko mat batana yaar!"

So which movie character do you resemble?